Atrik – A Versatile HTML Template for SaaS Startups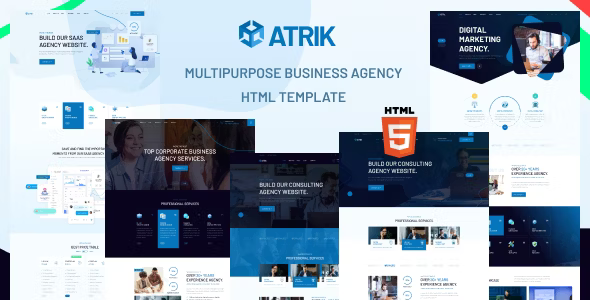 Building a website for a SaaS (software as a service) startup comes with unique challenges. You need a site that is modern, slick, and optimized for conversions. At the same time, it needs to communicate its brand and value proposition clearly to attract potential customers. This is where Atrik – MultiPurpose HTML Template for SaaS Startups comes in handy.
What is the Atrik- MultiPurpose HTML template?
Atrik is a versatile, multipurpose HTML template for software and SaaS companies. It contains all the pages and components needed to build a conversion-focused website that establishes trust and credibility for a new SaaS venture.
Some of the key highlights of Atrik are:
Modern and minimal design based on SaaS industry best practices
Over 20 pre-built inner pages for services, about us, careers, pricing, etc.
Purpose-built SaaS homepage layout with call-to-action sections
Seductive product showcase with tabs, testimonials and features/benefits
Easy integration with Saas services like MailChimp, Calendly, etc.
SEO-friendly and optimized for conversions
Fully responsive for all devices
Built with HTML, SCSS & JavaScript
Why Atrik is Ideal for SaaS Startups?
There are a few reasons why Atrik – MultiPurpose HTML Template is an excellent choice of template for an early-stage SaaS business:
Trust and Credibility – The clean, professional design establishes authority and makes your SaaS company look well-established. This provides a layer of trust for visitors right from the start.
Conversion-Focused – Layout With strategically placed CTAs and a sales funnel approach, the template guides visitors to sign up or start a free trial
Modern and Sophisticated Design – Atrik – MultiPurpose HTML Template has a minimalist yet striking design that fits perfectly for a modern SaaS company selling to other businesses.
Easy Customization – Atrik is built using HTML, SCSS, and JavaScript making it simple to customize to your brand colors, fonts, and images.
SEO Optimized – The template markup employs best practices for on-page SEO to help your SaaS site get found by prospective customers.
Services Showcase – The multipurpose pages make creating sections highlighting your software's features, services, integrations, pricing plans, and more easy.
Responsive Layout – Atrik's mobile-friendly responsive design ensures your SaaS website looks great on all devices.
With the strategic layout, polished design, and easy customization Atrik provides, it is the ideal starting point for creating a website that elevates your SaaS startup and wins new customers. The template's versatility also allows it to work well for all types of software companies.