Explore Our
Themes & Templates

For Your Next Projects

Explore our premium WordPress themes and Next.js React templates for versatile web projects. Our products offer responsive designs, drag-and-drop customization, WooCommerce support, SEO optimization, and security. Next.js templates feature server-side rendering, web vitals optimization, and headless CMS integration. Kickstart your web project for online success today!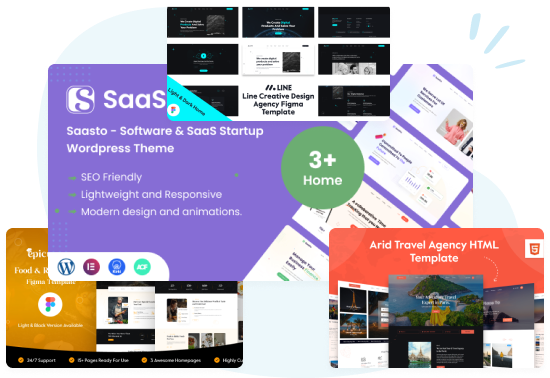 Discover the
Unique Advantages

of Using WPRealizer Themes

At WPRealizer, our sole mission is to provide small businesses and entrepreneurs with the tools they need to establish a professional online presence and grow their venture. We recognize how daunting and competitive it can be to create a website and brand that drives results in today's digital landscape. That's why we go above and beyond to offer small business owners so much more than just WordPress themes. Our team pours our hearts into understanding the unique challenges and objectives of early-stage businesses so we can develop products and services that solve real-world problems. We aim to be more than just another theme shop - we want to be your trusted partner in taking your business to the next level online.

Quality Themes
All of our WordPress themes are meticulously crafted by our talented team of developers and designers. We don't just pump out cookie-cutter themes - each one is thoughtfully designed with attention to aesthetics.

Customer Support
Our customers are our top priority. We have a dedicated support team ready to help you with any theme issues or questions you may have. We strive for quick response times and transparent communication.

Regular Updates
We continually improve and optimize our themes even after purchase. You'll get access to bug fixes, security patches and new features to keep your site running smoothly.

Documentation
We provide extensive documentation with each theme purchase to help you get up and running quickly. Step-by-step instructions, video tutorials and knowledgebase articles are just some of the resources available.

Customization Options
Our themes are highly customizable so you can tweak the design and layout to match your brand. Change colors, fonts, widgets and more to make it your own.

Money Back Guarantee
If for any reason you are unsatisfied with your purchase, let us know within 30 days for a hassle-free refund. We stand behind the quality of our products.
Request for a custom
Project!
You can request for a custom Project!. Send us your project requesrments